Energy management made easy!
We believe that energy management should be easy and affordable!
Z3 Controls develops and manufactures user friendly products that allow commercial/industrial energy consumers to monitor and control energy consumption in order to:
Lower energy costs
Reduce carbon footprint
Measure the effectiveness of energy conservation programs
Reduce peak demand and take advantage of energy incentive programs
The Z3 NetMeter family of products provides industrial/commercial energy consumers with real-time energy information. This data is presented in an intuitive, vibrant format on any device with a web browser including smart phones, tablets, laptop/desktop computers, and more.
Z3 NetMeters offer the lowest ownership costs of any energy monitoring solution:
Easy to install, often with no shutdown required
Easy set-up: no more difficult than setting up a home network
No ongoing fees or maintenance costs
Does not require a BAS or SCADA system (but will interoperate well with them)
Video: NetMeter Overview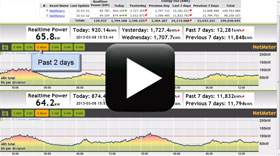 Our customers are often surprised at how easy and convenient it is to monitor electricity, gas, air, steam, water, and more using our NetMeter products.
For novices, it's best to get started with only 1 or 2 NetMeters, then add more as required as the results accrue.